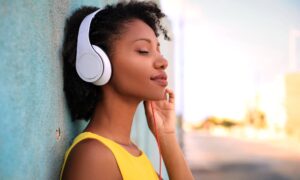 Even writers have off days. Sometimes, the words don't flow easily or the ideas are blocked. This can be true for me when I try to write on the same day that I'm in medical practice. To tap into my creativity, I have to put my technical mind to rest. To do so, I search for inspiration through music.What music inspires you?
For me, combining time outdoors with music gets a big thumbs. When I add a physical activity, then I'm on a roll. With earbuds in place, I set out. Walking my dog or plain just walking, hiking, or swimming, those are the ways I find creativity. In fact, I wrote this blogpost outside, under an umbrella. It didn't matter that it was raining, I was inspired.
Mood Music
Of course, my earbuds were secure and the music was blasting. Once I get into my writing zone, I find myself seeking a song to fit the scene I'm writing. I can physically be anywhere — my home, a coffeeshop, by a pool — as long as I have my "writing music" on, I find what inspires me. Music helps me create my characters, and it's a method used by other authors too.
Shell Game Playlist
I comprised several playlists while writing Shell Game since I had a wide range of characters with distinct personalities and interests. For me, the right song can solve dialogue and behavior roadblocks. A prime example is the character of Blake Myers. I knew that I wanted my strong female protagonist to have an equally strong male protagonist that would lead towards something more than a business partnership. Nevertheless, I found it difficult to create a person to fit with my female lead, Taryn, without superseding her personality. I also wanted someone whose character and voice would evolve as he and Taryn got to know each other's attributes and faults. Maintaining this dynamic tension would be integral to Shell Game and subsequent books in the series. Creating believable, multidimensional characters would only enhance the medical suspense and thriller tale I would weave.
Classical to Country
I am a musical polyglot. I enjoy listening to everything from classical to country, rap to rock, electronica to reggae, and yes, even grunge. Putting my music library on shuffle can end up with some interesting selections back to back. The shuffle play action is how I ended up with music that helped me write about and learn Blake Myers. The song "Real Good Man" by Tim McGraw sealed the deal. I heard that song on a day when I had written and discarded more pages than I care to admit. I was trying to figure out how Taryn and Blake met and instantly came into conflict. With that song, everything about Blake clicked and the writing flowed. Soon after, I made a Blake playlist to go with my Taryn playlist. 
Some of my 'Taryn' songs included:
"Good as it Gets" by Beth Hart.

"Beautiful Stranger" by Madonna

"Freedom" by Beyonce
To find the right mindset to create intrigue, spying, and crazy characters came from:
"Furious Angels" by Rob Dougan

"Saladin" by Hybrid

"Mumbai Power" by Skrillex

"I'm on Everything" by Bad Meets Evil 
The right music can transport me and help me see my characters and plot with clarity. My personal writing soundtrack changed as I perfected my manuscript, and was as fun to curate as the book was to write.