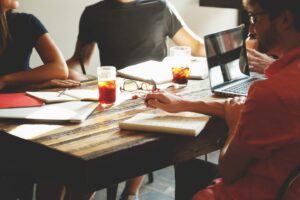 In my fiction, I love taking readers for a walk on the dark side of medical practice. Recently, I decided to extend that walk to the dark side of writers' communities. Typically, most writers' groups are constructive and supportive, but on occasion, a few bad apples crop up. I want aspiring authors to not only feel successful, but be successful. More importantly, if you're starting out on your writer's journey and unwittingly venture into the dark side of writers' groups, I want you to know that you are not alone.
Believe in Yourself
The first step to your success is to believe in yourself. This doesn't mean you sway to the side of arrogance or not being open to instruction and honest critique. Just be wary of people who will attempt to deflate your sense of well-being and sense of self in the guise of being "helpful."
I regretfully saw a tweet from a fellow indie writer that was less than supportive for a another writer. She actively spread negative sentiments when this author announced the publication date for her upcoming book. I was surprised at the behavior. This "community" reprimanded a fellow writer for announcing her success!
The way I see it is that people will be themselves, and social media can be a real cesspool of negativity. However, it can and should be a way to build community, meet other writers, and support each other. Moving forward, go with your gut to determine the difference between negative energy and positive support, but always believe in yourself.
By the way, I friended and followed the writer who was berated by this group. That is what indie writers should do — encourage and celebrate each other's success and progress. Writing success is not a limited sized pie; there's plenty to go around.
Dreams Have No Limits
My first interaction with a critique group came from someone who gave me the run-down on how the group was organized. It went like this: "We, who lead the group, will inform you when we think your work is ready to move forward to publication."
I was taken aback. This was not a published author, teacher, editor, agent, or in any way an individual who had a track record of getting new authors published, or had an actual job doing same.  He was also the only 'group leader' of this MeetUp group. Additionally, I have no idea if he meant "we" in the royal sense or if he truly had another collaborator. Needless to say, it wasn't a good first impression. Point from this? Don't let one person define you or your writing style. Your dreams have no limits and nobody should try to weigh them down.
After a lovely sojourn in the forest to clear my head, I was left with peace and the overwhelming desire to help, not hinder, fellow authors. I hope this post does just that.
Let's celebrate each other! (Insert fist pump and happy dance here). Write on, read on, my friends!